Monday, July 23, 2012 at 5:08PM
By NED POTTER (@NedPotterABC)
American astronaut Sally K. Ride, monitors control panels from the pilot's chair on the flight deck in this file photo. (Credit:Apic/Getty Images)
Sally Ride, the NASA astronaut who became the first American woman in space in 1983, has died after a 17-month battle with pancreatic cancer, her office said today. She was 61 years old and had lived in California
In 1983 and again in 1984, she flew as a mission specialist on the space shuttle Challenger, conducting experiments, operating the shuttle's robot arm -- and breaking through a very high-altitude glass ceiling.
"Sally lived her life to the fullest, with boundless energy, curiosity, intelligence, passion, commitment, and love," said her colleagues at Sally Ride Science, an organization she set up after her NASA career to inspire young girls to pursue careers in science and engineering. "Her integrity was absolute; her spirit was immeasurable; her approach to life was fearless."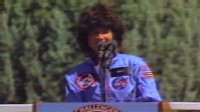 June 24, 1983: Sally Ride Returns From Space
Born on May 26, 1951 in Los Angeles, Ride studied physics at Stanford University, earning a Ph.D. in 1978. By then she had already been selected as one of NASA's first six woman astronaut candidates. The agency was gearing up for its new shuttle program, and said it wanted to expand its astronaut corps, which in its early years had been mostly limited to test pilots.
Her effect on younger women was electric. Astronaut Dottie Metcalfe-Lindenburger, who flew on one of the very last shuttle flights, said she was inspired in her childhood by Ride's example.
"I grew up during the shuttle age so I was really excited in the second grade when we started flying the shuttle and I remember watching that in our class," said Metcalfe-Lindenburger in a 2009 interview with ABC News. "Somehow I realized that women could become astronauts."